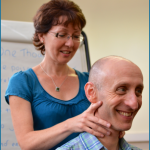 I am delighted to be offering regular courses and workshops from my studio in Solihull. An introduction is recommended before starting a course or joining a one-off workshop, please click here to book an introduction.
Courses for individuals. Quick and easy to schedule. A very flexible option.
Courses for pairs and trios occur when people come together or there are enough individuals interested. The next course for 3 begins on Wednesday 30th Oct 730-830pm and, on this occasion, will run for 4 weeks.
One-off workshops for 3 people. For people unable to commit to a weekly course. Next one-off workshops on 19th November 730-9pm and 28th November 10-1130am.
Workplace or special interest group workshops. Past examples include Coventry University staff well-being event; Women's Institute; Warwick Folk Festival; Sport Therapy BSc.
If you are interested in any of the above please email me directly on jane.toms@yahoo.co.uk 
Saturday morning introductions also happen at the Treatment Rooms, Knowle. Please visit The Treatment Rooms website for more information.